 Luc D'ASNIERES DE VEIGY
Physiotherapist / Director
Physiotherapist and physical therapist and expert in the rehabilitation of the shoulder with an experience of over 20 years. Specialized in various technicalequipment (such as ultrasound and computerized torque evaluation), this liberal practitioner in the Principality of Monaco, regularly publishes and teaches about shoulder rehabilitation.
Being a former international gymnastics, he particularly studied the "technical pathology" of the gymnasts' upper limb. As a co-founder of the Society for Surgical Implants for the upper limb, he has gained experience on the pyrolytic and post-surgical evaluation. With over than 10 years of practice in musculo-skeletal ultrasound, he has a great experience in the field of shoulder clinical and physical assessment.
* Member of the French Society of Shoulder Rehabilitation
* Member of the European Society for Shoulder and Elbow Rehabilitation
* Laureat of the "Institut de France" (French institution) and the "Agence Nationale de valorisation de la
recherche" (national research promotion agency)
* Member of the French Society of hand & upper limb rehabilitation
Julien COUTURE
Physiotherapist
After being a high level player in badminton, Julien validates his master in biomechanics, physiology and training in the Sport University of Marseille (FRANCE).
Passionate about sports and health, he logically carries on with his studies in the European School of Physiotherapy and Rehabilitation of Louvain la Neuve (Belgium) to become a Sport physiotherapist.
His thesis, « the muscular ratio (transversus / multifidus) in chronic low back pain » pushes him to develop an expertise on both the spine and the lower limbs.
In 2006, he joins the Monte-Carlo Joint Repair clinic, specialized in shoulder therapy, completes and develop an expertise in spinal pain management, as long as hip, knee and ankle rehabilitation.
He is also graduates in musculoskeletal Ultrasonography (SONOSITE, LONDON) and becomes a member of the French society for the shoulder rehabilitation (SFRE) in 2007.
* Member of The French Society of Shoulder Rehabilitation
* Certificate of osteo-articular echoscopy Sonosite (London)
Chiara BUSI
Physiotherapist
Graduated in Physiotherapy Master 1 by the famous university Italian student of Padua, Chiara continues her training in Master 2 at the Paul Henri Spaak High School, Brussels, Belgium.
She created her practice in Nice, diploma in sports physiotherapy, she directs her practice in the care of the sportsman.
Her expertise in musculoskeletal ultrasound brings her naturally to be interested in the rehabilitation of the upper limb.
After training as an observer at Pr Boileau she decides to integrate the clinic Montecarlo-Joint-Repair very oriented on the price in charge of pathologies of the upper limb.
Thomas VAN KLAVEREN
Osteopath
Thomas van Klaveren, who trained in Institut Supérieur d'Ostéopathie in Lyon, is willing to propose an holistic and evidence-based osteopathy.
He then became an active junior member of Eurospine, the European Spine society, and learns an interprofessional approach to spine care, the assessment and diagnosis of spinal pain, the management of spinal deformities (scoliosis, etc…), the prevention of disability.
He logically joins Monte-Carlo Joint Repair in 2014, where he improves his diagnostic and technics on the peripheral joints, especially the shoulder.
A two years diploma in musculo-skeletal ultrasound (Queen Mary University, London) helps him sharpening his diagnostic skills.
His rigorous approach leads him to validate a certificate in Perinatal and pediatric osteopathy in Paris (OPP) and joins the European Research Society in Perinatal and Pediatric Osteopathy (SEROPP).
Isabelle PRIMAULT
Medical Secretary / Assistant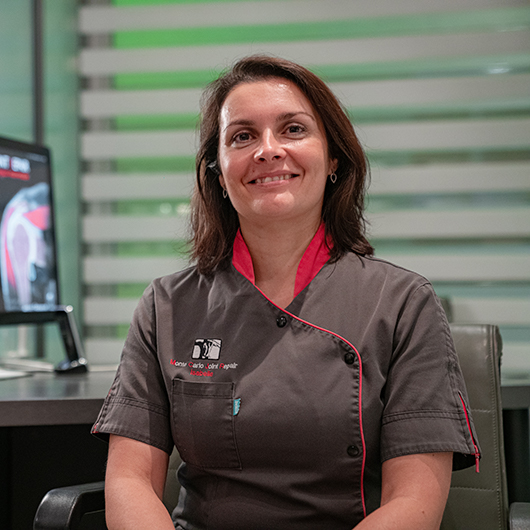 Will be able to direct you to the most appropriate personShe has full competence in osteo-articular medical concierge services.